By Maren Webb
During the summertime, the Gunflint Trail is the place to be for some rest and relaxation or an adventure. With over a dozen Boundary Waters entry points, a day paddle or an extended canoe trip is a family favorite. Not to mention the many hikes, from Caribou Rock Trail to Magnetic Lake Trail and many others.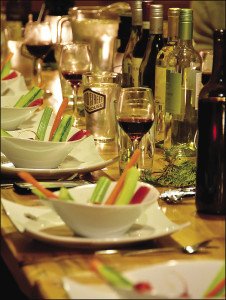 If you venture up the Gunflint Trail for some canoeing, fishing, hiking, or just a drive, there's a new restaurant to check out in the mid-trail area. The Dancing Bear Café at Big Bear Lodge and Cabins opened mid-May and is offering a menu that is sure to have something new for you to try, with menu options you will likely not find elsewhere on the North Shore. From an Elk Burger to Pulled Pork Nachos, the Café's menu and ideal setting on the shores of Poplar Lake will please more than your taste buds.
For the past few years, Andy and Ida DeLisi have been serving up artisan pizzas to their guests at Big Bear Lodge and Cabins. With her homemade dough and their grandmother's sauce recipe from Sicily, the pizzas became a big hit with all ages. The couple made the decision to purchase the Old Northwoods Lodge on Poplar Lake in 2011. One of the benefits of the lodge was that it came equipped with a full commercial kitchen. After the purchase, many wondered if they would open the restaurant as part of the new Big Bear Lodge. Based on the success of their pizzas, and with their refurbished resort and kitchen facilities, the couple decided to embark on a new endeavor by adding a restaurant back to the lodge. Enticed to the area by the opportunity to be their own bosses and live on the water in the woods, Andy and Ida bring enthusiasm to all they do, and "a little leap of faith," said Andy.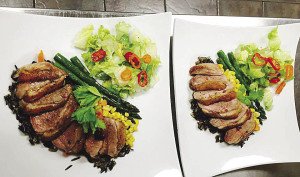 This Mom and Pop operation is bringing the best of two worlds together, striving to share fine dining tastes in a laid back, relaxed atmosphere you'd expect up the Gunflint Trail. No white tablecloths here, but you will find duck and other elevated ingredients on their menu. This gem, located just off the Gunflint Trail about 30 miles from Grand Marais, has a chef that is helping drive this fun and innovative menu. John Barton, who is originally from South Carolina, is a creative, young chef who is bringing some new flavors and ingredients to the North Shore, while still offering food that will please all. Some of the specialties offered with John at the helm include the on-site smoking of meats and fresh baked bread. Andy and Ida are going the extra mile to offer a great dining experience, in addition to encouraging their diners to enjoy the Gunflint Trail before or after their meal.
As if the menu wasn't enough to bring you by, The Dancing Bear Café is also perfectly located for watching the sunset over Poplar Lake during your evening meal with a glass of wine. It's location on the lake means that you could even paddle right up to the dock, if you are looking for that post-Boundary Waters feast. Even if you stop earlier in the day, you won't miss out as the lake views and spot nestled in the pines give diners a scenic meal anytime of the day.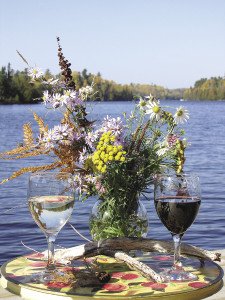 This summer, The Dancing Bear Café will also feature some special events. On Wednesdays, starting in July, they will do Wednesday BBQs from noon to 7 p.m., with food, drinks, live music, and beautiful scenery. Musician Joe Paulik, friend of the owners, has been a regular at Big Bear Lodge, and already has several evenings booked at Big Bear. If you are looking for something extra special, they also host themed private dinners occasionally. Their last event, "Taste of Italy," featured Italian favorites, from imported cheeses to catered wine pairings. More information about special events will be listed on their Facebook page at www.facebook.com/BigBearLodgeAndCabins.
The Dancing Bear Café will be open Thursday through Sunday 11 a.m.-9 p.m., seasonally, and some Wednesdays. There is indoor and outdoor seating, as well as a seasonal screen porch. Their menu will also change seasonally, so keep an eye out for new options down the road. I'm looking forward to trying their Smoked Trout and Cream Cheese Bagel sandwich, as well as their flatbread pizzas using Ida's pizza recipe. They also have beer and wine options, which they are currently expanding.
As owner Andy said, "Come on and give us a try."
---
 More great dining options up the Gunflint Trail:
Trail Center: 7611 Gunflint Trail. Open for breakfast, lunch, and dinner, seven days a week. Well-known for their burgers, walleye sandwich, and malts (try the rhubarb one when in season!).
Gunflint Lodge (Red Paddle Bistro and Justine's Fine Dining): 143 South Gunflint Lake. The lodge restaurant and patio overlook Gunflint Lake, at the end of the Gunflint Trail. Serving breakfast, lunch, and dinner, starting at 7 a.m., seven days a week.
Trail's End Café: 12582 Gunflint Trail. Open for breakfast, lunch, and dinner, seven days a week (mid-May through September). Known for their simple menu and their pizza, burgers, and breakfasts at the very end of the Gunflint Trail.
Hungry Jack Lodge: 327 Hungry Jack Road. Breakfast 8 a.m.-11 a.m. and main menu available from noon-9 p.m., seven days a week. Featuring "loggin' food" with a selection of sandwiches, burgers and made-to-order pizza.
Gunflint Pines: 217 South Gunflint Lake. Open 11 a.m.-7 p.m. daily (Wednesday until 5 p.m.) and serving pizza, sandwiches, ice cream, deserts and snacks.
Windigo Lodge: 7890 Gunflint Trail. Open year-round, Windigo Lodge offers full breakfast, lunch and dinner menus. Full liquor and beverage service is available.