When the first snows of the season arrive to the North Shore, ski enthusiasts eagerly wait for the snow to be deep enough for one of winter's favorite activities: cross-country skiing. For those looking to try (or get back into) skiing this winter, here's where to go, where to find ski passes, and where you can even bring your dog.
Cook County is home to many cross-country ski trails of varying length and terrain. Between Tofte and Lutsen, the Sugarbush Trails include over 60 kilometers of groomed ski trails, ranging from short loops suitable for beginners to more advanced and longer trails. Near Grand Marais, the Pincushion Mountain Ski Trails have over 25 kilometers of ski trails, some of them lighted for night skiing. The Gunflint Trail also boasts several fantastic ski trails, including the George Washington Pines loop, the Central Gunflint Trail System, the Upper Gunflint Ski Trails, and the Banadad Trail.
Before heading out to enjoy the snow, skiers should purchase a ski pass depending on which trail system they plan to ski. Most groomed cross-country ski trails in Minnesota require a signed ski pass for skiers 16 years of age and older. The Great Minnesota Ski Pass is the most common ski pass, and is good for cross-country skiing in Minnesota's state parks and state forests. Funds collected from ski passes go toward maintenance of trails, and skiers can choose between passes that are good for one day, one year, or three years.
In addition to ski trails in the North Shore's state parks, the Great Minnesota Ski Pass is required for skiing on popular trails such as the Sugarbush Ski Trails, Pincushion Mountain Ski Trails, and the Banadad Trail. (Since parts of the Banadad Trail enter the Boundary Waters, a BWCAW entry permit is also required for skiers entering the wilderness area.)
The Great Minnesota Ski Pass can be purchased in person at most Minnesota State Parks, as well as anywhere that sells DNR licenses. Passes can be purchased in Tofte at the Tofte Holiday station and Sawbill Canoe Outfitters, and in Lutsen at Clearview General Store. Locations in Grand Marais that sell passes include Buck's Hardware, Mike's Holiday, and the Marathon station store. Printable ski passes can also be purchased online through the Minnesota DNR website.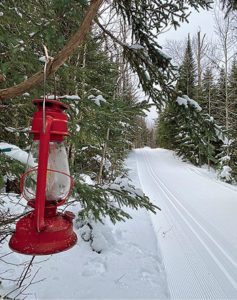 For skiers planning to ski on the Upper Gunflint Nordic Ski Trails, a local pass is required, which can be purchased from nearby lodges such as Gunflint Lodge and Gunflint Pines Resort. The Central Gunflint Trails between Bearskin Lodge and Golden Eagle Lodge require a Central Gunflint pass, available at both of the lodges.
While jumping into cross-country skiing can sometimes feel like an information overload for beginners, Sarah Uptain of Golden Eagle Lodge recommends talking with people who can help. "I would encourage beginner skiers to stop in at any of the lodges on a ski trail system—we can give advice, tell you where to go, and help you get the right pass."
Those who love cross-country skiing may wish to share their skiing adventures with their favorite four-legged friend. Skijoring, which involves being pulled by a dog while skiing, is a popular option for skiers along the North Shore, with a few ski trails allowing dogs.
Near Tofte, a few of the trails within the Sugarbush trail system allow dogs: the Summit View, Maple Loop, and Upland Loop trails are each dog-friendly, and range in length from 2.4 to 4.2 kilometers in length. Closer to Grand Marais, the George Washington Pines trail, a 2.5-mile loop, is both dog-friendly and beginner-friendly.
Farther up the Gunflint Trail, the Banadad Trail that enters the BWCAW is also dog-friendly. A one-way, 27 km trail, this trail is an excellent option for skiers looking for a wilderness adventure. Golden Eagle Lodge also maintains a skijor trail that leaves from the lodge and follows Flour Lake, and is accessible with the purchase of a Central Gunflint Ski Pass.
In addition to skis, skijoring typically requires a dog harness, a harness for the skier, and a cord to connect the two. Stone Harbor Wilderness Supply in Grand Marais has skijoring kits for sale, as well as cross-country skis for sale and for rent.