When the pandemic lockdowns began, the extra time spent at home led many to take up new, socially-distanced pastimes, from bread baking to home improvement projects. For Duluth artist Teri Glembin, lockdown was the impetus for drawing a new Swedish Dala horse each day for a month, a pastime that evolved into a captivating project with over 30 designs.
Art has long been a part of Glembin's life. She began drawing at a young age, and graduated from the University of Minnesota-Duluth with a degree in Art and a minor in Art History. She went on to work in commercial art, graphic design, and marketing, but always continued doing her own art on the side.
"Creating works of art for me has always been life enrichment," Glembin said.
Fast forward to Christmas of 2019, when her parents gifted her a huge set of Sharpie markers. Little did she know at the time that these markers would be put to good use once the pandemic hit in 2020, and "A Dala a Day" was born. When the stay-at-home orders came in March, Glembin began drawing a new Dala horse each day, something she kept up through April. She described her process as "couch-crafting," often with her border collie by her side.
"It was nice to come home from work and stay positive by doing something creative," Glembin said. "It was soothing and mesmerizing, and I liked having the Dala shape as a template to doodle inside. The process was very organic—it's all hand-illustrated and not perfect."
Dala horses come from the Dalarna region of Sweden, and are traditionally carved by hand before being decoratively painted, most often with a floral saddle. (The signature red-orange color of Dala horses comes from the pigments of copper mines in the region.) When Swedish immigrants arrived in Minnesota they brought the folk craft with them, and Dala horse statues can be found in several towns throughout the state. For Glembin, illustrating and painting Dala horses has been a way to connect with her Scandinavian heritage and traditions. And while some of her designs are Scandinavian-inspired, she also finds inspiration from her day-to-day life.
"I find inspiration everywhere," Glembin said. "Sometimes I'll notice an interesting pattern in the beach sand or driftwood, on wallpaper, or on someone's purse. My Dala designs incorporate my interpretations of the Zentangle® method, Mandala symbols, Marimekko prints, and illustrated floral designs—which I now tag as my #teritangles and #bloominartstudio. I like to play with different color combinations and put my own twist on them."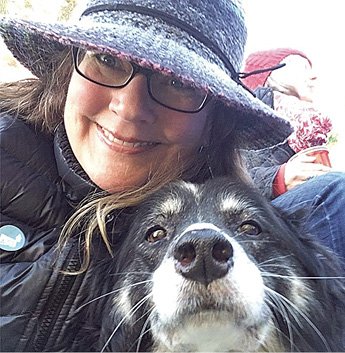 Glembin ended up creating 31 unique Dala drawings, and shared each new design on social media to connect others with her art during the pandemic. Since then, her Dalas have gone from the living room couch to being virtually displayed at The Nordic Center in Duluth in January 2021. Glembin has also created Dala greeting cards with her designs, as well as a coloring book for those who wish to try their own hand at Dala doodling.
In addition to drawing, Glembin also does wood burning. She gets recycled wood cut into Dala shapes to wood burn and embellish her designs on them with oil-based paint markers. Other wood burned projects that Glembin creates include jewelry, ornaments, and shelf or wall artwork.
Teri Glembin's artwork can be found around Duluth, including the Art Dock and Lizzard's Art Gallery & Framing. Stop by the Duluth Folk School's Dovetail Cafe & Marketplace to view an exhibit of her "A Dala a Day" originals this October. Find her artwork online at: bloominartstudio.com.