More than just a healthy alternative to beef
Known as "manoomin," wild rice was central to the lives of the Anishinaabe. Each fall, families would travel to their ricing grounds. Their stores of rice, along with dried meat and berries, were essential to survival during the lean winter months.
Wild rice is quite nutritious; it is high in dietary fiber, protein and antioxidants. Further, its nutty flavor and pleasing texture make it an ideal supplement to meat dishes. So while it is revered by the Anishinaabe, it has gained wide acceptance in kitchens throughout the U.S. and Canada. And since it has no cholesterol or saturated fats, and is gluten free, it has also become a popular substitute for meat. Several North Shore restaurants feature wild rice burgers, while others have found innovative ways of supplementing meat dishes. Wild rice has a pleasing nutty flavor and a substantial consistency that, when put on a bun with other condiments, is very reminiscent of a traditional hamburger.
Perhaps no North Shore restaurant has embraced the wild rice burger more than Fitgers Brewhouse in Duluth. According to owner Rod Raymond, the genesis of this burger goes back to his family's roots as early Norwegian settlers in Beaver Bay. The early white settlers and the Native Americans got along quite well and taught each other from their respective cultures. Raymond's ancestors learned to gather wild rice and began incorporating it into their diet. His grandmother used wild rice in many of her recipes, and when his mother became the original chef at Fitgers, she developed the wild rice burger. It is now their best-selling burger. You can also purchase the frozen patties at area grocery stores.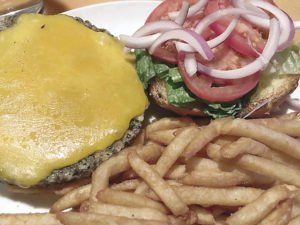 The burger comes in three varieties. Their Classic is served with cheddar cheese, alfalfa sprouts, Roma tomatoes, red onion, and garlic mayonnaise. Their Pub Style wild rice burger features sautéed onions, mushrooms, Swiss cheese, and their homemade chipotle pepper sauce. Lastly, their Gale Force variety has blue cheese, jalapenos, red onions, garlic mayonnaise, and field greens. The burger patty is generous and more than fills the bun. The patty itself is fried in butter, giving it a crisp exterior and a pleasant chewiness inside. The cheese and their secret blend of spices complement the natural flavors of the rice. This burger would pair well with any of the many craft brews Fitgers has to offer.
Raymond is passionate about wild rice, its preservation, and its connection to Anishinaabe culture and his family history. He sources his rice from the Red Lake District and speaks earnestly about the need to preserve the waters where rice is harvested.
The Duluth Grill also serves a house-made wild rice patty. Theirs they call a Wild Rice Melt. It features pepper jack cheese, caramelized onions, roasted red pepper vinaigrette and is grilled on multi-grain wheat bread. They source their rice from the Savage family at Spirit Lake Farm in Fond du Lac. Again, the seasonings and cheese enhance the flavors of the rice while adding some zing.
In Grand Marais, My Sister's Place offers a variety of wild rice options, including a house-made wild rice burger. The burger features Minnesota wild rice and comes smothered in cheddar cheese and with the usual hamburger accompaniments of lettuce and tomato. The patty has a nice chewy texture, and the seasonings and cheese complement, but don't overpower, the natural flavors of the rice. As with the others, this burger feels substantial and pairs well with your beer of choice.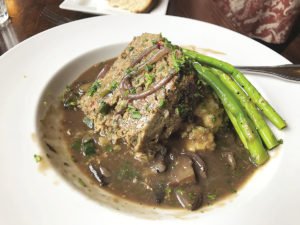 My Sister's Place has a number of other offerings that feature wild rice. They have a wild rice salad entrée that adds dried cranberries, slivered almonds, and red onion. It comes with their house-made wild berry vinaigrette and is served over romaine lettuce. If the idea of forgoing beef on your burger is too much to overcome, their North Shore burger piles wild rice and mozzarella cheese on top of the beef patty. Prefer a hot dog? No problem. Their North Shore Dog starts with a 1/3 pound hot dog and adds wild rice and mozzarella cheese. This hot dog was featured on The Travel Channel's Bizarre Foods with Andrew Zimmern.
Other restaurants combine wild rice with their meat dishes. The Rustic Inn Café in Castle Danger carries a made from scratch wild rice meatloaf. This savory meatloaf combines beef and Italian sausage with Minnesota wild rice. This complex mixture also includes tomato paste, eggs, crème, roasted red peppers, onions, and their proprietary combination of seasonings. It is served with asparagus and mashed potatoes and smothered in their own rich and savory pan gravy that is deglazed with red wine and includes sautéed onions and mushrooms.
Wild rice has been a staple for those who have lived in this area for hundreds of years. With the popularity of the hamburger, it is not surprising that many have developed wild rice burgers. They make a great option for vegetarians and carnivores alike. It should be noted that most recipes include eggs and sometimes cheese, so the burgers are not vegan. Wild rice is gluten free, so the burgers can be a good gluten free option. Some recipes use bread crumbs, though, so it is a good idea to check with the restaurant. Whatever the reason for ordering one, wild rice patties work great on a hamburger bun. They have a meaty consistency and great flavor. They pair well with the condiments used with hamburgers. So if you are in the mood for a burger but seek a healthier alternative, give one a try.