In 2018, Sam Cook retired after 38 years of writing about the outdoors for the Duluth News Tribune (DNT) newspaper. Almost three years later, we asked how it was going.
"There aren't any days that I wake up and think, 'Well, what am I going to do today?' Let's find the clothes we need and get going, you know?" Cook said. "Here's how sick I am. I keep track of the number of nights I sleep on the ground every year. This has to be in wild places, it can't be in your backyard."
Cook's earned the right to do what he likes after publishing outdoors articles for the DNT for 1,976 weeks. Starting in 1980, he wrote story after story, week after week, year after year. That is 38 deer season openers, 38 fishing openers and just about everything in between. Cook's career in outdoor writing is admirable and will be impossible to imitate.
It all started in the small town of Sabetha in the northeast corner of Kansas. Cook was born there in 1948, but his family moved every few years to places like Topeka; Grand Island, Nebraska; and Omaha before finally moving back to Sabetha for high school.
"Dad was kind of always looking for a better situation. We were pretty poor," Cook said. "It was hard to move that much, but I think in some ways being the new kid over and over again might've provided me some strengths that came through when it was time to go out and meet a lot of people and interview them."
Two important things happened to him as a high school sophomore. First, he met his wife Phyllis. "I was sitting next to her in biology class. And we started dating and never stopped. We were kind of meant to be, I guess," he said.
And second, that same year of 1964, he made his first trip to the Boundary Waters. "We made a nine-day trip up into the Quetico and all over. To a kid growing up in Kansas…it was just unbelievable," Cook said. "To hear a loon for the first time. It just about knocked your socks off. The memory of that trip stayed in my mind. Phyllis and I didn't get back there until '73 after we were married. Once we made a trip up there, we started thinking about moving up. We both quit our jobs in Topeka after five years and moved to Ely to work for a canoe outfitter for one summer. And I'm sure our folks thought we were nuts, you know?"
That 1976 foray led to a job working for the Ely Echo newspaper, then a daily newspaper in Longmont, Colorado, and finally the DNT in 1980.
"We wanted to get back to Minnesota," Cook said.
He listed two big reasons for his plentiful writing opportunities here: increasing outdoor recreation options and Duluth's spot on the globe. First, the growth in activities.
"If you look at what's happened over that time period in the outdoors, it was phenomenal. It wasn't just going to be hunting and fishing. It was going to be paddling and hiking and anything you could do outdoors," said Cook. "I just decided that was all going to be part of it. And it was going to be male and female and it was going to be young and old. I just wanted it to be very inclusive and I think that's how we are in the outdoors up here. What's come on since I started that job with sea kayaking, mountain biking, hiking, the trails; everything just blossomed during that time."
Second, Cook sang the praises of the region.
"You also had just so many places to go. You could be an outdoor writer in Des Moines or Kansas City or someplace and not have what we have in our backyard with the North Shore and Lake Superior. I started two years after WLSSD [Western Lake Superior Sanitary District] came online and the St. Louis River got clean and the walleye fishing exploded and then trolling on Lake Superior was really getting cranked up. And you had the Boundary Waters, the Apostles, Isle Royale, Rainy River, all these lakes between here and I Falls and over into Wisconsin, the Brule River and all that history on the Brule. I mean, you just couldn't ask for a more diverse and fun place to go play outdoors than we had here."
When asked about his most memorable writing experience, he couldn't really settle on one: "There's just too many, I guess." But, when asked what his most memorable outdoor experience was, Cook didn't hesitate. He immediately talked about canoe trips to the far north.
"Paddling to Hudson Bay in 1983 on the Gods River was among the really high points," he said. "It was the first whitewater river we'd ever done. I think that trip was 250 miles. We were gone for a month and on the water for three weeks. And I was doing it for the paper. Everything was new and wild. Big brook trout. Phyllis and I paddled it together and stayed married. [laughs] It was great."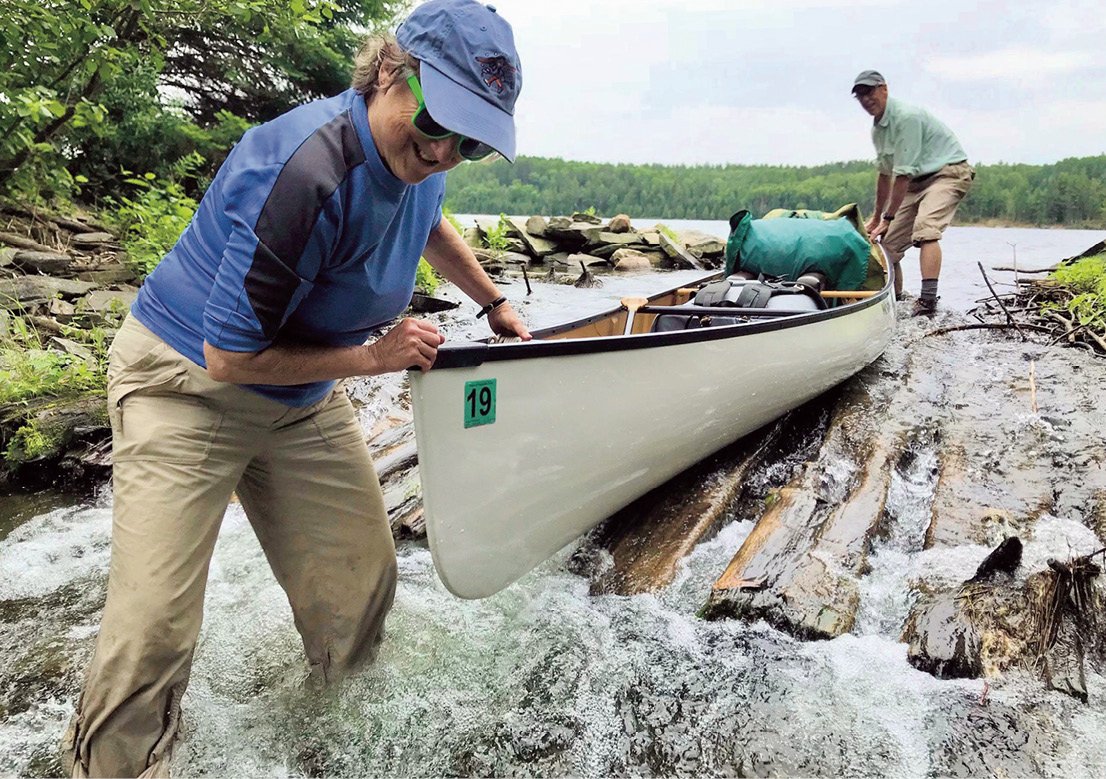 He talked about several different paddling trips, but circled back to that first one to the Gods River.
"I think I felt as fully alive as I ever feel on one of those trips, any of those trips, and to do the first one with Phyllis. Ken Gilbertson led the trip. I was sitting up in the front of the van with him and everybody else was asleep. Years later, Ken said, 'I remember us riding back in the middle of the night. And we were up there and just talking and I remember you telling me, Sam, you said, I'm ready to have a kid now.' And I didn't even remember saying that."
Not long after, Sam and Phyllis had a daughter in 1984 and a son in 1990.
At one point during his time with the DNT, Cook had a chance to seek greener pastures with another newspaper in the Twin Cities. He was in correspondence with Irv Benson, a character who lived on a remote island on Saganaga Lake. Cook told Irv he was thinking about "moving on or moving up." In a typewritten letter, Benson wrote back, "If one has a good readership following in the writing field, and is reasonably free to elaborate on subjects of ones [sic] choice, then to me this could be summarized by saying that one could do what he wants, where he wants, whenever he wants, and even get paid for it. Kind of hard to beat a situation like that, don't you think?"
Lucky for DNT subscribers, Cook stayed put. "I just didn't think I could haul our family down there," he said. "Our kids were young and Phyllis was on board with me, too. We liked raising kids here; no regrets."
The pressure of writing stories every week is off after 38 years. Having more time gives him perspective on his working life.
"The biggest thing that sticks out for me is, how the heck did I do that for so long?" he said. "I don't mean to say that I work harder than anybody else works, but I knew in the moment that I was running as hard as I could. Thank goodness that Phyllis was supportive and she was working too, you know."
Cook had some advice for writers: "If I had one piece of advice, I'd say read novels, nonfiction, whatever. I don't care, but just read. I guess the other thing I would say is move around, travel some, put yourself in situations where you're a little bit uncomfortable. Putting yourself outside your comfort zone. It could be on a river going to Hudson Bay, but it could be in Paris, too."
Cook leaves us with one simple adventure tip. "You can call it a sense of wonder or curiosity or whatever, but you don't go out looking for cool things to happen, but you go out knowing that cool things could happen every time…I just tell people, just go, just get out. You don't have to always get out of town. You might watch an owl come down and snag something out of the snow. You never know what you're going to see, but you aren't going to see it in the living room. You have to be there. One of my thoughts over the years is just: Get out."
So, while the rest of us go off to work, Cook will be scouting the countryside for a place to lie down. "I think my high one year was 35 nights sleeping on the ground. I only had 25 last year. And I'm thinking, Sam, I think we can do better than that. [laughs] It's an arbitrary thing to keep track of. But to me, it's symbolic of how much time we're spending in good country…to make sure I'm getting out enough into places that I really value."