SILVER BAY—What started as a part-time experiment to offer North Shore travelers the option to leave their beloved pooches in a comfy space, while their humans camped and canoed in the Boundary Waters, has quickly become the only dog boarding facility between Duluth and the Canadian border.
Angela McWilliams, owner/operator of Raspberry Ridge Dog BnB, near Silver Bay, offers a home environment for up to a half-dozen assorted pups on any given day. It includes long walks, client-specific foods and the added benefit of thoughtful grooming and holistic medical care for dogs in need of special care.
No kennels, no concrete runs, no wire fences. Just lots of grass to run on, long riverside paths to wander and nice dusty spots for an ecstatic roll before bath time, snacks and bed. Doggy heaven indeed.
McWilliams has a strong desire to see her guests immediately comfortable and bonding with her. "I had rescue dogs my entire life until my Maggie and Petey both passed away in 2012. There was a void in my life till I started bringing dogs into my home when their owners would have hockey games, work commitments, vacations and whatever life would bring. My lifetime of owning rescues has helped me greatly in reading dog body language and behaviors. Now, I can say that I enjoy the time with my guests just as much as they enjoy taking a fun vacation while their owners are away. I live in a country setting in the beautiful Beaver River Valley and the dogs love all the smells and wildlife trails. It truly is heaven on earth for dogs."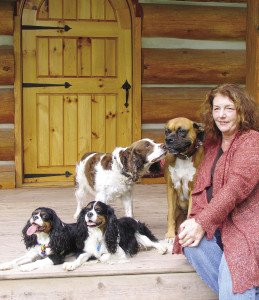 In just the four months since establishing her facility, McWilliams' clients have quickly found their way to her by word of mouth and her website, www.raspberryridge.wix.com/dogbnb. Already her weekly roster is crowded with an ever-changing assortment of canines. Favorite toys, treats and lots of hugs, with a bit of quiet time, quickly relaxes the new dog to relax with the pack in the vast, homey kitchen filled with sunlight and the smell of clean canines.
"I have found that a little massage is a wonderful distraction technique to relax my doggie guests when they first arrive if separation anxiety sets in. It creates an instant bond between us and they feel a sense of calm about me and their new surroundings," said McWilliams.
Recently, she found herself carefully bathing an affectionate customer who needed special herbal baths and supplements. Seeing a happier animal, glad to reconnect with its humans after a week's stay, and nicely spoiled by lots of skilled attention and loving care, was a great reward.
McWilliams' hand-built hewn-log lodge on the Beaver River provides lots of room for dogs small and large, with extensive grounds to walk, run and cavort in. Smaller dogs have been known to plop into the slow-moving shoal pools of the Beaver wearing little life preservers to paddle happily about, exercising underworked muscles and soaking up the rays.
"Your home rules are my home rules. Your beloved companions can sleep with me if they sleep with you. If they are crate trained, just bring it with you for their stay. Your companion's feeding times, food, treats and leads are discussed and I follow your instruction," said McWilliams.
Initially, McWilliams walks all dogs on a lead. Owners that are confident of their dogs training often provide instruction for off-lead time, but only when she is sure that the dog is responding to hand and voice commands. Then, she lets them run free in her large woodland. A lead is used when walking along the nearby highway or along roads and on the paths down to the Beaver River. Dogs with less training get some, to their benefit and comfort and as a responsibility to McWilliams' human clients.
McWilliams sends daily text or email updates to all owners who are anxious for their four-legged companions' well-being. —Deborah Morse-Kahn