A fur trapper's rendezvous is not a place where you would expect to find a fashion show. For the last two years, Ontario's Northwestern Fur Trappers Association has featured models coming down the runway at its annual convention in Thunder Bay. The show is the brain child of Katie Ball, a former fashion model who moved back home to the wilds of northwestern Ontario to help her father run his trap line and to begin a second career as a furrier.
"I grew up with trapping," she says. "My Dad is a trapper, hunter and outfitter. I lived in the States for a bit and tried alternative scenes, modeling and music, but after 10 years I wanted something new."
On a visit to home a few years ago, she attended the trapper's convention and had a conversation with her friend Becky Monk, who lives in the Ontario bush with her trapper husband, Murray. Monk suggested Ball take a course offered by the Wild Fur Shippers Council that taught trappers how to use their own furs to make garments and other goods. And so she did.
"I took the course three years ago and now it is my full time career," Ball said.
She discovered working with fur is somewhat of a lost art, because wearing fur became socially taboo in the 70s and 80s. Times have changed. Millennials have a well-documented interest in sustainable, healthy living. Some view fur as a natural, renewable product. And, on the international fashion front, Balls says 500 major designers are now using fur in their product lines.
Ball says she is taking a "fashion forward" approach to working with fur. However, she admits she still has much to learn about the furrier's craft.
"I'm not ready to do coats," she said.
Ball's business is called Silver Cedar Studios. Much of her present work is focused on accessories such as scarves, ties, snoods, shawls, boas, stoles and sashes. Knitted fur garments are a specialty. In addition to traditional trapper's hats and pill boxes, she makes trendy knitted beaver wool and fox pompoms. She often incorporates fur into designs with other materials and uses it as trim. Part of the reason for doing so is because she believes no fur should go waste.
"As a trapper myself, I know that nothing goes to waste, but I really do want to use everything," she says. "I use scrap fur for making jewelry and for strip lashes (eye lash extensions)."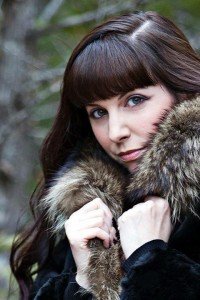 Another advantage of being a trapper is that she understands fur in the way a carpenter understands wood. She knows the textures of various furs, whether they are soft or brittle, and knows how they should be used. When combined with her experience in fashion, she can craft products that push the envelope. This writer is no fashionista, but I can say some of Ball's work ain't your grandmother's mink stole.
Monk, who encouraged Ball to learn about working with fur, has become her mentor, although they mostly converse online. She says it is sometimes challenging to learn new techniques, because there is no one she can work with locally. But the opposite is the case when it comes to trapping.
In Ontario, trapping is regulated with registered trap lines, where trappers have a specific territory in which they trap. In order to keep a registered line, trappers must harvest fur from it every year and meet management quotas for some furbearers, such as beaver. Ball hopes her father's registered trap line will be passed on to her, although that isn't likely to happen anytime soon.
"I'm the number two trapper on the line," she says. "But I love being out there."
Trapping is a tough way to make a living. Ball says her father has always told her that trapper needs something to fall back on for income. For him, it is outfitting bear hunters and commercially trapping minnows for fishing bait. For her, it's the furrier trade.
"My father has always had a lifestyle I've been envious of," she says. "Working with fur pays the bills and allows me the same freedom, so I can live off the land and follow in my father's footsteps."
Being close to her family was the primary reason Ball returned home. But the world of trapping and fur has provided her with an extended family.
"All of my clients, all of my friends, fur is what brings us together," she says.
While Ball keeps company with folks who have no issues with trapping, she is ready to discuss the subject with just about anyone.
"My goal with Silver Cedar Studio is to educate the public of the economic and ecological benefits of fur," she said. "I really want people to see how green fur really is."
She points out that synthetic fur and fleece, which some people consider to be eco-friendly materials, are actually petro-chemical products.  The extraction of petroleum and its refinement for use cause far more damage to the environment than sustainably trapping wild furbearers. It is a perspective she is not afraid to share.
"I'm not afraid to talk about my beliefs, she said. "And, unlike many trappers, I'm comfortable talking to a group of people."
She hopes to her public speaking skills to use for the good of trapping and the broader outdoor community. She is presently running for an assistant director's position with the Ontario Fur Managers Federation. Again, she hopes to follow in her father's footsteps by becoming active in trapping organizations.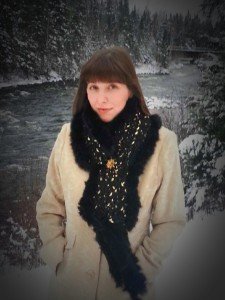 She also hopes to carry her message forward through the retail sale of her products. While her furs are presently available through her website www.silvercedarstudio.com and some local shops, she is opening her own shop next month in Thunder Bay. As might be expected from someone who intends to spend time outdoors, she plans to have the shop open for a few hours each week and by appointment.
Interestingly, while Ball said she occasionally encounters "haters" online, she's never had anyone make a negative remark to her when she is wearing fur.
"I think we are past those days," she said.
While her observation may be truer in Canada than in some urban areas of the United States, there presently seems to be a growing acceptance of incorporating outdoor activities such as hunting and natural materials such as fur into a modern, sustainable lifestyle. And those among us who enjoy the outdoors can credit folks like Ball for making it happen.