Lutsen—North Shore Winery marks its first year of business, announcing 2016-17 sales exceeded expectations. The original 2015 business plan called for sales of 12,000 bottles of wine, so 16,000 bottles were produced. This quantity was sold by February 2017, leading the business to invest in additional storage space and beverage-making capacity to keep up with demand.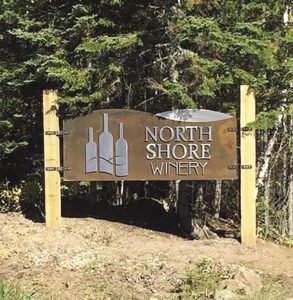 "We continue to be amazed by the support of local residents who bring friends and family to the tasting room and the consistent level of tourist visits in Cook County," states Chuck Corliss, North Shore Winery owner and winemaker. "Over the past year, our staff poured more than 12,000 tastings, usually served to first-time visitors to the winery, which speaks volumes about the attraction of Cook County and all it has to offer."
During the past year, a building addition was constructed to store wine in a dry, temperature-controlled environment. Additional equipment and tanks were also purchased so beverage-making capacity in the current space could be maximized.
"Over the winter, we maximized our wine and cider-making capabilities and increased production by 75 percent," Chuck continues. "For the 2016 vintage being poured now, we produced 30,000 bottles of wine and 28,000 liters of cider. We created 15 wines and introduced a sparkling wine which has been well received."
Sixteen local bars, restaurants, and liquor stores in Cook County supported the business during its first year by carrying wines and ciders. The winery appreciates the support of these businesses and for believing in the buy local movement.
"The growth of the wholesale business in Cook County was unexpected," said Kim Corliss, North Shore Winery owner and business manager. "Businesses across the county took a chance on us and provided taps for our ciders and shelf space for our wines. This support, along with the foot traffic in the tasting room, will allow us to focus our sales only in Cook County, giving visitors a special taste experience when they visit here."
The business is expanding its outdoor seating area to accommodate summer and fall tourism traffic. A new pouring station has been added and new seating is continuously being built to provide visitors with the casual, relaxed space they have come to enjoy.
"We are excited to be entering our second year with enough product to keep up with demand," Chuck continues. "We are looking forward to the upcoming year with more products, inviting spaces to enjoy our beverages, and being a good business partner in Cook County."
The winery and tasting room, located on Ski Hill Road in Lutsen is open daily (except Tuesdays) from 11 a.m. to 7 p.m. The tasting room offers a flight of tastings for a fee, along with carafe, glass, and bottle purchases of wine and hard cider. The tasting room also offers a selection of Minnesota-crafted cheeses and cured meats to enjoy while visiting the North Shore Winery.