Silver Bay—About eight months ago, a St. Paul couple moved to Silver Bay to enjoy an active retirement on the North Shore, one packed with outdoor experiences. Their focus was peace, relaxation and recreation.
But something happened that caused Phil Huston and Alice Tibbetts to rethink their retirement.
"We kept driving by the Spur Gas Station and I kept noticing the cliff behind the gas station, and it called to me," said Huston, a recreational rock climber and mountaineer. "I'm serious. It just called to me."
A complex dream began taking shape that has the potential to positively impact Silver Bay's image on the North Shore. After brainstorming with Tibbetts and obtaining the backing of two Twin Cities friends and investors, Wanda Davies and Mary Monahan, the group formed Kali Partners, LLC. They decided to buy the gas station property and begin developing the North Shore Adventure Park.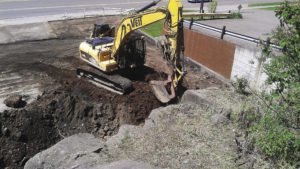 "We planned to tear down the building and have a little climbing cliff," said Huston.
The gas station is located at the intersection of Highway 61 and Silver Bay's Outer Drive (at the stoplight). On the property is a 30-foot cliff with "big cliff-like features," said Huston. He and Tibbetts fondly named the cliff after Eleanor Roosevelt, a prominent first lady with worldwide respect, a level of respect that they think the climbing cliff will earn.
"Eleanor" has three vertical faces, with a variety of beginner-to-advanced features including large and micro-ledges, underclings, flakes for advanced climbers, a dihedral (which is an area where two vertical faces come together to form a corner), and more.
In early June, the 1950s-era gas station and convenience store that blocked the view of Eleanor were demolished.
"The sun was finally bounding all over her rock for the first time since 1956," said Huston.
The next steps to prepare the climbing cliff for public use includes digging out six feet around the cliff's perimeter to prepare a soft spot for climbers to fall on, and decontamination of the soil after a couple of gas station oil spills. The group plans to add native plants to beautify the property as well.
Huston and Tibbetts intend to open Eleanor during Silver Bay's Bay Days, which is a hometown event that runs July 7-9. Their team will guide local climbers on how to safely traverse the cliff and learn skills beyond just getting up the cliff quickly.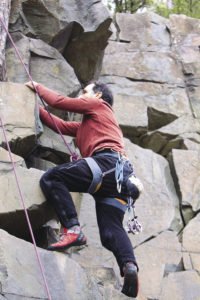 However, opening Eleanor is only one piece that makes the North Shore Adventure Park whole.
After Kali Partners purchased the gas station property, "we started noticing the three acres of land directly north," said Huston. The group is working to purchase additional land that's adjacent to the climbing cliff, owned by the Minnesota Department of Transportation and the City of Silver Bay, to construct the North Shore Adventure Park. The vision is for an aerial ropes course, walking paths, family-friendly bike options, a zipline and more.
"I thought it would be a lovely mix of human-powered activity and energy in that corridor," said Huston. "It would also compliment the City of Silver Bay's comprehensive plan that specifically talks about beautifying the corridor."
The $4 million project is expected to take about three years to complete. For project updates, check out their Facebook page: facebook.com/northshoreadventurepark.