With so many hundreds of kilometers of cross-country ski trails along the North Shore, most people who spend time up here in the winter are familiar with, if not full-on passionate about, Nordic skiing. Nordic skating, however, is lesser known but just as fun.
Nordic skating is essentially cross-country skiing on ice. A typical Nordic skate set-up involves a Nordic boot—either backcountry or skate—attached to a long skate blade via a Nordic binding. The heel is free like in Nordic skiing and the technique is similar to the motion used to skate ski on snow.
Nordic skates can be used anywhere that there is ice, but they're best suited for long stretches of "wild ice"—i.e., frozen lakes and rivers.
While back-country skis are perfect for venturing across snow covered lakes and midwinter forests, Nordic skates are the ideal way to get out and experience the wilderness when the lakes are frozen but void of snow.
Conditions have to be just right to go Nordic skating in the wilderness. If the ice is too thin, then it's not safe, but wait too long after the lakes freeze and all of the endless wild ice will go dormant beneath the snow.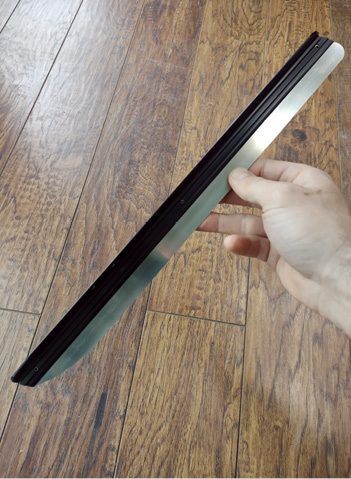 Our "wild ice" season on the North Shore usually runs late November-early December. However, Lake Superior can freeze over at any time during the winter, and when it does it provides some of the best "wild" ice skating in the world.
Skating wild ice is an experience like no other, but given how short and unpredictable the season can be, why invest in a pair of Nordic skates? Why not use a pair of hockey or figure skates?
Hockey and figure skates are designed for human made and maintained ice rinks—compact sections of ice that involve lots of sharp turns and changes in directions.
Nordic skates, on the other hand, are designed with comfort and distance in mind. Nordic boots are warmer and more comfortable than traditional ice skates, ideal for skating miles of lake shore on a zero-degree day.
The blades on Nordic skates are also different than those found on hockey and figure skates. Nordic skate blades tend to be long, wide and stable, which makes them glide smoother and faster than traditional skates.
Making sharp turns may not be as easy on Nordic skates, but the skating motion is just like skate skiing a groomed track—it's all about finding a steady rhythm and a comfortable pace that can be maintained for kilometers.
Lastly, when out Nordic skating it is important to make safety a priority. Wearing a helmet is strongly recommended (ice is a lot harder than snow), and when dealing with wild ice, proper rescue equipment such as ice picks, rope and ice screws should be on hand at all times. If venturing further out into the wilderness, be prepared to get wet and be out longer than expected—having a change of clothes and fire making supplies are a must.
If interested in getting a pair of Nordic skates, it's always best to buy local. Not only does shopping local support small businesses in the community, it also gives the buyer access to the shop's service and expertise.
Local outdoor retailers will be able to help mount bindings to the skates, advise on boot-binding compatibility, help identify the right boot for the type of skating you plan on doing, and give advice on where to go and how to use your new skates. They can also handle warranty issues, should they arise.
Stone Harbor Wilderness Supply in Grand Marais and Sawtooth Outfitters in Tofte are two great options in Cook County. Both businesses have Nordic boots and bindings, but given the limited demand for Nordic skates they will likely need to order skates, so don't wait until the last minute to get your skates.
In Duluth, Continental Ski & Bike has a few pairs of skates in stock, as well as plenty of boots and bindings to set up the skates to your liking.