Duane Johnson of Hovland didn't intend to become a logger. Living on the shore of Lake Superior, he wanted to be a commercial fisherman, because the fishermen he knew led independent lives. During his first winter after high school, Johnson built a boat so he could take anglers out on fishing charters for lake trout. He began charter fishing the following summer, as well as commercially netting herring during the fall and early winter. Two years out of high school, he married his wife, Virginia.
If the invasive sea lamprey hadn't decimated lake trout during the 1950s, perhaps he would still be a fisherman. But it was too hard to make a living by just netting herring. So Johnson began spending winters in the woods. Now, 65 years later, he's still out there, chainsaw in hand.
At age 85 and still married to Virginia, Johnson isn't sure if he's the oldest logger in Minnesota—he's heard of a fellow near Ely who is in his 90s—but he's certainly in rare company. And he has stayed true to his roots. While most loggers became increasingly mechanized over the years, with today's harvesting machines costing well into six figures, he continues to cuttrees with a chainsaw and haul them to the landing with a skidder he purchased new in 1973. He does harder work on a daily basis than most men a third his age.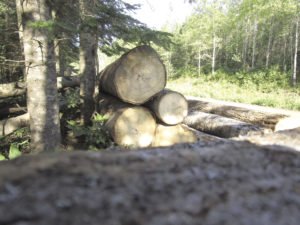 "I eat just as well as the guys with the big equipment," he says of his logging method. "But when I have a breakdown it doesn't cost me nearly as much for repairs."
When he first went into the woods, Johnson carried a four-foot hand saw for felling trees and an axe to cut off the limbs. The hand saw did double duty as a measuring stick when he bucked the logs into 100-inch lengths. Early in his career, Johnson primarily logged in the winter, mostly cutting spruce and balsam for the Consolidated Paper Company. He cut 35 to 40 cords of pulpwood between January and March his first winter. Then, with the help of his father, he used a neighbor's small tractor to skid the wood to Horseshoe Bay, where it was rafted and towed across Lake Superior to mills in Wisconsin. In later years, the rafting operation moved to the Grand Marais harbor.
Chainsaws and Tractors
During his second winter in the woods, Johnson logged where Judge C.R. Magney State Park is now located. That year, he went to Duluth to purchase his first crawler tractor, an Oliver Cleat Track without a blade, from Goldfine's by the Bridge, Duluth's first discount box store.
"I paid $900 for it," he says. "That was a lot of money back then."
To haul wood, he built a small sleigh called a dray. The runners were crafted from the crooked trunk of a birch tree. At that time, the early 1950s, only a few loggers were still using horses, but hand tools and homemade equipment were common.
Johnson logged with a hand saw for at least two years before he purchased his first chainsaw, a McCulloch 325, which, he said "was about how much it cost." The saw was gear-driven, so the chain turned more slowly than a modern chainsaw. The early saws were good for sawing logs, but not for limbing the trees. Johnson continued using an axe to limb trees for quite a few years.
It didn't take long to adjust to the ease and efficiency of a chainsaw. One day, while logging spruce near Irish Creek north of Hovland, his chain saw quit. He went back to the small shack with a stove that he had on the logging site to eat lunch. He had a four-foot hand saw there and decided to finish out the day using it. But back in the woods after lunch, he quickly changed his mind.
"I cut one tree and then headed straight for Hedstrom's mill," he said. "They were the McCulloch distributor and repair shop at the time."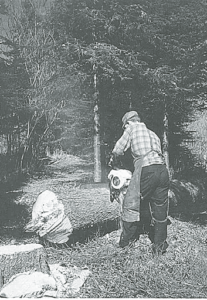 A few years later, he bought his second tractor from Goldfine's. This one had a front end loader so he could use it to load logs. Prior to that, he loaded eight-foot logs by hand. As he recalls, this second tractor cost $3,500. It was years before he purchased his first skidder, a John Deere 440, in Thunder Bay. He purchased the skidder he currently uses back in 1973 for about $25,000 new. A few years ago, he bought a similar model used from the widow of a deceased logger. He still uses that one as well.
"It doesn't have the power of the one I took care of myself," he says.
Johnson does most of his own equipment repair work. For big jobs, he relies upon his son Rusty, a mechanic in Hovland. Another son, Rocky, hauls his wood to the mills. Years ago, Johnson tried his hand at long-distance log hauling and quickly decided the work wasn't for him. However, he used to do his own hauling. His first truck was a new 1957 160 International that he bought from the Shold and Lovass dealership in Grand Marais. It had a 12-foot flat bed and could haul up to four cords; albeit somewhat overloaded.
"Nobody worried about truck weights in those days," he said. "When you hauled four cords, you had to put in a new spring once in a while."
Pride in his Work
Consolidated ceased its North Shore operations about the time new markets developed for aspen. Johnson began selling aspen, spruce and balsam to Canadian mills. One winter, he sold eight-foot balsam logs to a sawmill in Thunder Bay. They purchased his wood most of the winter and then suddenly announced they wouldn't take any more because loggers weren't removing all of the limbs from the logs.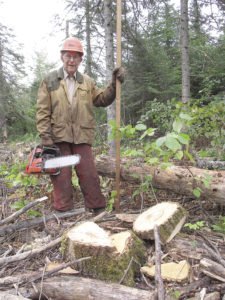 "I called them up and said I would give them $5 for every limb they found on my wood," he said.
It was a bold statement. The mill told him to send a load and they would check it out. They soon called back and said they would accept all of the wood he sent to them.
"I've always been neat with my logging. That's my priority," he said.
As an example, he always cuts his stumps close to the ground. One reason is so he can drive over them without damaging his equipment. In the winter, he kicks the snow away from trees he is about to cut so he can saw close to the ground. When the snow becomes deep, he carries a shovel to clear it away.
"It's more work to shovel out a tree than it is to cut it down," he says. "I've shoveled an awful lot of snow in my life."
This attention to detail has paid off with a sterling reputation for quality work. He hasn't purchased a state or federal timber sale for at least 25 years. He works with private landowners who ask him to log their property, all within 20 miles of his home.
"I still haven't run out of customers," he says.
Stories
In the winter, deer are attracted to logging sites to browse on the freshly fallen treetops. Johnson was working when over a dozen deer bounded right past him, some close enough to touch. He wondered what was going on when suddenly a large wolf appeared. The animal came toward him and stopped about 75 feet away.
"I told him, 'Come on, I've got my saw and I'm ready for you,'" Johnson says. "He stood there for a moment, then he turned and left."
In all of his years in the woods, that was his most unusual wildlife encounter. However, he's noticed one big change in local wildlife: today's comparative lack of biting insects.
"Thirty or forty years ago, the black flies and mosquitoes were terrible. The hardest part of summer was fighting the bugs," he says. "When I'm out there now, there are no bugs."
Although logging is dangerous work, Johnson has avoided serious injury, although he has had a couple of mishaps.
He began wearing a hard hat about 20 years ago after he woke up sitting in the snow and spitting blood, after being struck by an errant limb. Years later, while wearing a hard hat, he was struck so hard by a falling limb that it split his top plate in half.
"The dentist put in a piece of steel so it wouldn't happen again," he quips.
Then, there was the time he nearly cut off his big toe and kept working until he finished what he was doing. Since he only saw a little blood in the snow and his foot didn't hurt all that much, he wasn't aware of what he'd done until he took off his boot at home. His big toe was hanging by a flap of skin. He asked Virginia to get him a clean sock and take him to the hospital in Grand Marais.
"I thought they would cut it off and be done with it, but they sent me to Duluth," he said.
The doctor in Duluth reattached the toe with two pins, "like 8 penny finishing nails." Johnson cut a hole in an old boot to accommodate the injured toe and capped it with a plastic container so he could return to work.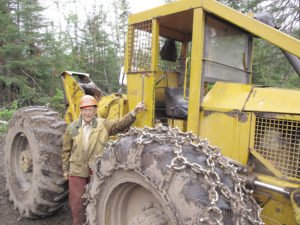 "I asked the doctor why it didn't hurt," he says. "He told me I was in shock and to just wait, because it would … I'm still waiting."
A Good Life
Johnson says carpentry comes naturally to him. He began building cabins as a boy. While in high school, he built a cabin for his mother to rent out during his Easter vacation. Many of his cabins still exist in the Hovland area, including one he built while he was a sophomore in high school. All of the lumber for his early cabins was sawed by hand.
His straightforward approach to logging has served him well.
"I do everything the way I've done it for the last 30 or 40 years," he says. "I don't have any push-button machines."
What he does have is a loving wife and large family of children and grandchildren. Hard work allowed Virginia and him to raise "six hungry kids." While other men his age have long been enjoying their retirement, it is hard to envision Johnson whiling away his days. Out in the woods is where he wants to be.