Gunflint Trail—Like many who make their pioneer visit to the Boundary Waters Canoe Area Wilderness, something sparked within Carl Madsen on those first few portages.
"My first trip was part of a college course with Iowa State University in 1989," Madsen said. "We stayed at the bunkhouse at Rockwood, had breakfast in the lodge and paddled through a September snowstorm to Horseshoe Lake for three nights. Ever since then I've been bringing my wife, and eventually my entire family up here for vacations."
And while many folks are enamored with the BWCAW when they visit, Madsen decided to ditch the vacation aspect of the area and move to the Gunflint Trail full time. In fact, he bought a lodge. Rockwood Lodge and Outfitters, to be exact.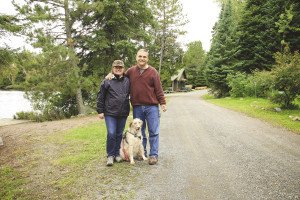 "Rockwood is special in that we have a great outfitting business and seven, soon to be eight, wonderful cabins right on the north edge of Poplar Lake," Madsen said. "I'm excited to share this place with new and returning customers, some of whom have been visiting Rockwood since the 1960s."
Madsen and his wife, Stephanie, took over operations at Rockwood last November. They will be majority owners of the business, with Stephanie's sister, Carol Seim and her husband, Mike, also joining the ownership team and staff.
Madsen has a background in the military, severing a combined 20 years with the US Army, Army Reserves and National Guard before retiring as a Major with the Engineer Battalion out of Willmar, Minn. Stephanie is a commercial-site planner and project coordinator, and will continue to work remotely for Kwik Trip and Holiday gas stations.
The new faces at Rockwood took over ownership duties from Mike and Lin Sherfy, who ran the business for the past 14 years. Mike and Lin expanded the outfitting side of the business during their tenure, and are now retired amongst the rolling slopes of southeastern Minnesota near Lanesboro.
Madsen said the Sherfys were extremely gracious during the transfer of ownership at Rockwood.
"The biggest advantage we've had is that Mike and Lin have been there to help us get everything set up," Madsen said of obtaining the property and business rights. "We spent a lot of time learning the water system and outfitting for groups, going over the various entry points and canoe routes. Mike introduced me to several of the neighboring resort owners, giving me the ability to take over the operations in stride."
For his part, Mike Sherfy said Rockwood is in good hands with the new owners. All four of the new owners of Rockwood have visited the lodge regularly over the past decade, including helping out each spring to open cabins and make general repairs.
"Lin and I are excited to be starting another chapter in our lives," Sherfy said. "It is especially nice to have part of the Rockwood family following in our footsteps. We hope that they will enjoy working and living in the place that we came to love."
And while the basic principles of the business will remain intact at Rockwood, Madsen does have some new ideas to bring to the table.
"We've already updated the website to be mobile friendly with online booking," Madsen explained. "Each cabin will get a lot of attention, and eventually I'd like to get the water system where we can open earlier in the spring, stay open later into October and possibly stay open over the winter. We plan on having a new dog run installed near the lodge and want to replace the roof on the outfitter building."
Mike Seim will be working primarily as a canoe outfitter at Rockwood, though he also takes pride in being a jack-of-all trades and is an experienced maintenance and repair man. As for his priorities at Rockwood, they seem crystal clear.
"Helping people experience the Boundary Waters, making sure that each trip is treated like family, being there when they leave and when they come back," he said of his new gig. "I've been dreaming of this opportunity for years, and I'm excited to get to both live and work in such a beautiful place."