Mark Norquist, founder of the website Modern Carnivore, believes it's never too late in life to become a hunter.
"It doesn't matter if you didn't grow up with hunting," he says. "It's never too late. You are either a hunter or not yet a hunter."
Norquist is devoted to introducing interested adults to the world of hunting, fishing and foraging. He holds half-day retreats called the Modern Carnivore Experience, where participants take the initial steps toward becoming a hunter. The sessions attract young foodies, couples and even retirees; all of whom want to learn how to harvest their own meat. The perceived health benefits of eating wild game rather than factory-farmed domestic meat motivate nonhunting adults to consider hunting. It is not coincidence that Modern Carnivore focuses as much, or more, on cooking and eating wild foods than it does on how to procure them. The website's tagline is "Eating Meat Responsibly."
Norquist's newest project brings together the entire experience with a seven-part video series entitled "Awaken the Hunter Within." The story line follows three adults as they make their entry into the world of hunting. The first episode introduces the trio. Becca has been foraging wild plants and wants to learn how to live more wholly off the land, including procuring meat. Pierce, who grew up in urban Chicago and Milwaukee, has always been drawn to Nature and wants to move from being an observer to becoming a participant. Alex wants to learn about the hunting culture and become truly aware of where his food comes from. Norquist serves as the mentor to the group.
In the second episode, the group learns about rifles and shotguns at a shooting range from Norquist's friend, Ben. For Pierce, guns had a negative connotation when he was growing up. He discovers recreational shooting is safe and enjoyable. Becca finds that recoil was more than she anticipated, but that doesn't deter her. Alex is thrilled to shoot a 30.06 for the first time.
From the shooting range, the next episode takes them on first hunts. Alex and Pierce go grouse and woodcock hunting in northern Minnesota with Mark. Becca joins another member of the Modern Carnivore team, chef Jamie Carlson, on a hunt for squirrels and rabbits. Although their hunts aren't successful, they learn that hunting isn't easy or guaranteed. This doesn't diminish their interest or enthusiasm.
Prior to going deer hunting, they go on a scouting trip with a biologist named Ryan, who teaches them how to interpret deer tracks and read deer sign such as beds, scrapes and rubs. What may seem basic to anyone with even a modest amount of hunting experience is entirely new to the trio, who finish their scouting trip building a ground blind in a likely location.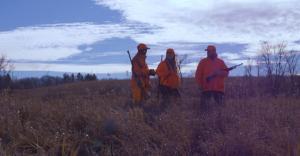 Finally, deer season arrives. The trio meets at a deer camp for a few days of hunting. Alex and Pierce team up in a ground blind. Becca hunts with Matt, one of Mark's friends. We'll avoid a spoiler and just say the hunting party gets a deer, which allows the new hunters to learn in the final two episodes about game processing and cooking. As they sit around the dinner table, they discuss what they've learned about hunting and how they may use that information going forward. We don't know if they will choose to take up hunting on their own, but they certainly have learned enough about all aspects of the hunt in order to do so.
The video series took about a year to complete, Norquist said. Alex, Pierce and Becca were chosen through a casting process. Alex and Pierce had attended a Modern Carnivore retreat. Becca was a subscriber to the Modern Carnivore newsletter who had won a wild game cooking book by author Hank Shaw in a related contest.
"It was a ton of work," says Norquist of making the film.
The video has been released one episode at a time on social media. As a testament to Norquist's marketing ability, when the first episode was released in September, it received 5,000 views in a week. One might also say this suggests a lot of adults have an interest in taking up hunting. Norquist believes this is true.
"I'm getting messages from people in the media across the country," he said after the video series' debut. "They're saying no one has told this story in this way before."
This apparent fascination with hunting begs a question: Why don't newcomers show the same interest in fishing, which, especially in Minnesota, is far easier to get started in than hunting? Norquist responds that when he created Modern Carnivore 10 years ago, he saw fishing as a gateway outdoor experience. Over time he discovered that a big part of Modern Carnivore is story-telling; and hunting stories draw more people than stories about fishing or foraging.
"The idea of going out with a deadly weapon and killing an animal is foreign to most people," he says. "The intrigue of the hunt draws people into it."
The site has videos that explain how to catch and clean fish, as well as how to make fish tacos. Norquist says the tacos are simple and don't require a volume of meat to feed several people. A new angler can catch a few panfish and have enough fish flesh to cook and serve a meal. This is a subtle lesson from Modern Carnivore that applies to other wild game cookery: You can learn to use meat as a component to the meal, rather than the main course.
It is worth noting that in the final video, Alex, Pierce and Becca remarked about the friendliness of everyone who was involved with teaching them about hunting, which made the experience more inviting and less intimidating. This suggests our traditional portrayals of hunting in the media and even as individuals may turn off newcomers who may have an interest in learning about hunting, but don't personally know anyone who hunts. It's something worth pondering by anyone who is concerned about the future of hunting.
You can access the videos from this link: modcarn.com/awaken.