Christmas Stockings
By Gord Ellis
Christmas has always been a big deal in our family, due largely to the influence of my mother, Nora. Our family house was heavily decorated with stars, garlands and angels. But the centerpiece was always the fireplace and the stockings. My brother Roy, sister Marlo and I all had beautiful, hand-crafted felt stockings with reindeer, glitter and our names on them. Mom and Gord Sr. had stockings, too. I'd always assumed my very handy and creative mother made our stockings, but I recently learned my aunt Sharon Ellis made them way back when. You never stop learning. Anyway, the stockings were always first stop on Christmas morning, and had many treats, including chocolate, Mandarin oranges and figs. Yes, figs. My father felt this would be a good dietary choice for his children. There were also more practical things in those stockings, including socks and underwear. You just never knew.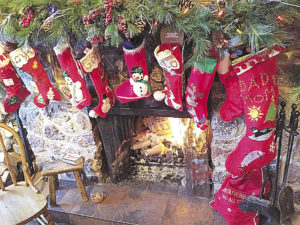 As we grew up and gained partners, the Christmas stocking collection grew. Some stockings only had a couple uses; some were around longer. A few were bought, several made by hand. My wife Cheryl had her own stocking before we married, and that one has been hanging at my parent's house on Christmas day for 30 plus years. Both our boys got their own family Christmas stockings early on as well. My folks house has remained where the "historical" family stockings have hung. And they are opened as a group.
A few years back, my mother floated the idea of discontinuing the Christmas stocking tradition in our family. It was time she said, we were all grown up and adults. The grandkids could still have them, but us grown kids and spouses should be over it. Well, this news was not greeted well by my siblings, or myself. This was our last, thin connection to our childhoods Christmas memories. We might be old, but we wanted our stockings! This hilarious, slightly weird, reaction had my mother throwing up her arms. Despite her common-sense idea, we broke her down. The vintage Christmas stockings remain, although it is getting crowded on the mantle as my boys both have partners now.
The stockings are still hung by the chimney with care. And I couldn't imagine Christmas without them.
Snacks for Santa
By Eric Chandler
When I was a kid, it amazed me how those ungulates landed on our steep roof. Then a giant man in a red suit somehow jammed himself down our chimney on his way around the whole world. I didn't ask questions because there was a 100 percent chance of new presents under the tree after those unlikely events.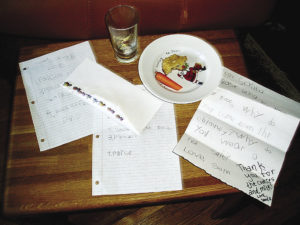 My parents always did certain things on Christmas Eve. For example, my mom made fondue for supper. We took long skinny forks, more like swords, and dipped pieces of bread into a pot of melted cheese. I never understood this weird 1970s meal. This tradition didn't survive into my own family.
However, a couple of other rituals lived on for my kids to experience. My parents let me and my sister open one present on Christmas Eve. I ripped open the wrapping paper with the roof of my mouth blistered from superheated cheese. Our main gift-opening frenzy is on Christmas Day. One present the night before is a pressure-relief valve that we still use.
My favorite tradition from childhood is leaving messages for Santa on Christmas Eve. The kids wrote their notes and left him a cookie with something to drink. They made sure Rudolph got a carrot. My children did this all through their younger years. And on Christmas morning? "Wow! Look! Half the carrot is gone!" Just a few crumbs left from the cookie. A film of egg nog drying inside the empty glass. This forensic evidence near the fireplace stopped any childish questions about Santa's waist size compared to the chimney. In recent years, the empty glass of egg nog smells a little like rum or whatever Santa finds in the cupboard. But maybe that's my imagination.
The Yule Log
By Shelby Lonne-Rogentine
Growing up, the Lonne family did a lot of the same things that everyone else in Minnesota do during the holidays. We cut down our own tree, we drew names for holiday gift giving with our cousins, and we always had a lot of good food to eat. However, my absolute favorite family holiday tradition is our Christmas Eve/Christmas morning festivities. Every year we go to our church's evening candlelight service, come home, cry while watching "It's A Wonderful Life," and then, we wish on our yule log. To be honest, as a 90s baby, I first heard about this tradition when I was about 5 years old after having seen the movie "Beauty and the Beast Enchanted Christmas." My sisters and I made our parents do it with us and we've been doing it every year since (over 20 years now).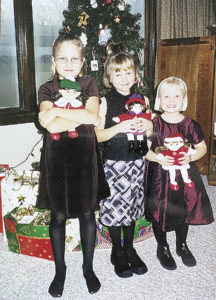 The tradition of the yule log is that my dad picks out a log from his wood box near my parents' wood-burning fireplace in their living room. We then each take a chance to silently hold the log and make a wish on it. Then, either Christmas Eve night or Christmas morning, we burn the log and let our wishes out into the world with the swirling smoke from the chimney. I've since looked up the origin of this tradition but the Wikipedia page is pretty vague. It has European descent and used to be used on the 12th night of Christmas as a kind of "good luck for the coming year" thing. Wherever it comes from, I've always really enjoyed this tradition of ours and hold it near to my heart.
As I've grown up, Christmas doesn't have this overpowering, jittery, magical feeling like it used to when I was a kid. I still love having a cinnamon roll and coffee and opening up gifts with my family Christmas morning, but I also don't feel the need to get up at 5 a.m. But the yule log wishing and being together still captures that bit of magic for us, even my sisters and I who are all now adults. We've pulled other loved ones in for this tradition in the years since we've started it, and I hope we continue to keep it up for years to come.
Where's the Turkey Dinner?
By Elle Andra-Warner
My mom always made a fabulous Christmas Eve dinner, followed by Christmas music and chaotic opening of Christmas presents. A wonderful evening of celebration.
Our house was small, so we all crammed into the kitchen and squeezed along the table for the meal (no dining room in this house). But wow, what a great dinner. Juicy roast turkey with apple stuffing (never Canadian bread-like stuffing). Oven-roasted potatoes, browned just perfectly. Her special Estonian sweet-and-sour sauerkraut. Baked verivorst, a national Estonian dish (other countries have different names for it but the English translation "blood sausage" covers it). And a great selection of desserts including Thunder Bay persians for the kids. And when my dad was still alive, each Christmas he'd pour each of the kids a small glass of Sweet Vermouth for the pre-dinner Christmas toast.
Mom's Christmas Eve dinner was a highlight of the season. Later, once I was married and had three children, the traditional turkey dinner continued at mom's place on Christmas Eve.
Then, a few years before she passed away in 1992, we arrived at her place, looking forward to that home-cooked Christmas turkey dinner. But when we walked in the door, we knew something was different right away—there was no 'cooking' aroma. But mom was super cheerful and smiling like she had a wonderful surprise for us.
After some chit-chat, we piled into the kitchen and had a moment of "What's going on? Where's the Christmas turkey?" The plates were set-up on the Christmas-themed tablecloth—just like every year—but on the table were lots of white closed boxes. Mom's surprise? Well, she had decided to scrap the traditional turkey dinner and order in Chinese food. That's what was in the white boxes.
From that time on, take-out Chinese food became our new Christmas Eve dinner, even after my mom was gone. Each Christmas, we still chuckle as we reminisce about "Remember when mom ordered Chinese food for Christmas dinner?" Memories.