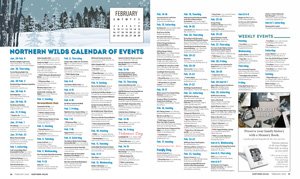 Download Northern Wild's February 2020 colorful monthly event calendar here! See below for a selection of upcoming events.
Northland Outdoors Deer Classic & Boat, Sports, Travel & RV Show
February 12

-

February 16
The great outdoors is headed indoors for the 54th Annual Duluth Boat, Sports, Travel and RV Show, and the Northland Outdoors Duluth Deer Classic; two expos in one. This family-friendly event features a variety of fishing and hunting seminars, vendors, workshops, and manufacturers on-hand demonstrating and showing off their newest products. New this year is a virtual reality experience, where you can view the wonder and majesty of the ocean through different habitats, or come face to face with some of the most awe-inspiring species on the planet. Take a photo at the all new 3D street art experience, step back in time at the Voyageurs Historic Re-enactment, and stroll through the rainforest animal exhibit. There will also be free scoring of your deer racks and live fishing at the Rainbow Trout Pond. Kids will enjoy testing their luck with the indoor sling shot, safe archery and the BB gun shooting gallery at Pheasants Forever Youth Village. And there will be free balloon animals and face painting from Cherri Merri Muffin. One ticket gives you admission to both expos, located at the Duluth DECC.