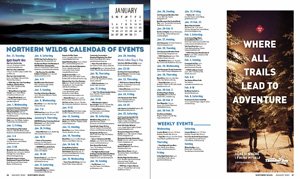 Download Northern Wild's January 2020 colorful monthly event calendar here!
See below for a selection of upcoming events.
North End Nightmare
October 26, 2019 @ 12:00 am
CDT
Grandma's Marathon offers a new event this month: the 1st Annual North End Nightmare 5k and Spider Dash races. Grab your family and friends and dress up for this spooky 3.1-mile race on the streets of Superior, Wisconsin's North End, open to ages 6 and up. There will be a costume contest, and all 5k participants will receive a commemorative hooded sweatshirt. Kids ages 14 and younger can also signup for the free Spider Dash, featuring short races ranging from 1/2- to a 1/4-mile, depending on age. All Spider Dash participants will receive a Halloween-themed tote bag, great for trick-or-treating. Race registration required.