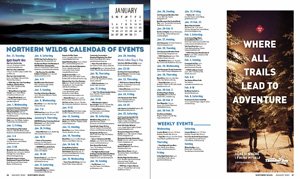 Download Northern Wild's January 2020 colorful monthly event calendar here!
See below for a selection of upcoming events.
Light Up a Life
December 12, 2019 @ 5:30 pm
CST
Sponsored by Care Partners, the 11th Annual Light Up a Life event offers Cook County community members the opportunity to celebrate the life of a loved one during the holiday season, while supporting end of life care. Each $5 donation lights one bulb in memory of one person on the memory tree, located in front of Johnson Heritage Post in Grand Marais. Donation forms are available online and at area businesses. The tree lighting ceremony, held at 5:30 p.m., will include a short ceremony of reflection led by Dr. Mary Ellen Ashcroft.