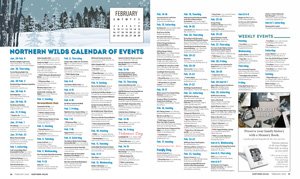 Download Northern Wild's February 2020 colorful monthly event calendar here! See below for a selection of upcoming events.
John Beargrease Sled Dog Marathon
Established in 1980, the John Beargrease Sled Dog Marathon is the longest sled dog race in the lower 48 states. It's also a qualifier for the famed Iditarod in Alaska. There are four races for mushers of all experience levels to enter: the full distance marathon, the Beargrease 120, the Beargrease 40, and the Beargrease 120 Junior Class. The races start on Sunday, Jan. 26 at Billy's Bar in Duluth. Other Beargrease events include the KQDS mini sled dog races at Canal Park Brewing on Jan. 24, Brew Sheen at Glensheen Mansion on Jan. 24, and a social hour and silent auction at 3 p.m. at Lake Superior College on Jan. 25.