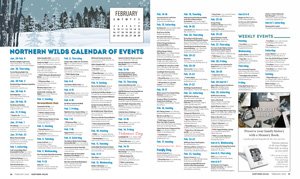 Download Northern Wild's February 2020 colorful monthly event calendar here! See below for a selection of upcoming events.
Ely Winter Festival & ArtWalk
February 6 @ 8:00 am

-

February 16 @ 5:00 pm

CST
The annual Ely Winter Festival features dozens of family-friendly activities, such as an amateur snow carving contest, a spaghetti feed, live music, a kubb tournament, kicksledding demos, Dorothy Molter Museum tours and a fundraising dinner, snowshoeing, the Great Nordic Beard Fest, a fish fry, candlelight skiing, a medallion hunt, a fishing contest and more. Also happening is the Ely ArtWalk; a window-shopping exhibition and sale featuring more than 400 pieces of art by local and area artists, held at various downtown businesses. On Saturday, Feb. 8, from 10 a.m.-4 p.m. is the Northern Lakes Art Association Downtown Arts Market, held at Amici's Ceremony Hall/The Art Corner. And on Sunday, from 3-4 p.m., meet many of the participating artists as you sip a free cup of coffee or cocoa; located at Front Porch Coffee & Tea Co.