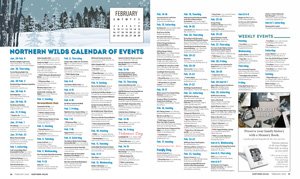 Download Northern Wild's February 2020 colorful monthly event calendar here! See below for a selection of upcoming events.
Ely Candlelight Ski
February 14 @ 5:00 pm
CST
The Ely Nordic Ski Club will hold a candlelight ski on Friday, Feb. 14 at 5 p.m. Held in Ely, enjoy skiing on a section of the Hidden Valley Trails with glowing luminaries. Afterwards, hangout with other local skiers in the chalet. This is a free event for all ages.