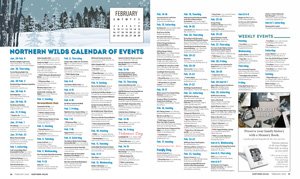 Download Northern Wild's February 2020 colorful monthly event calendar here! See below for a selection of upcoming events.
Boulder Night Ski & Snowshoe
Break out your Hawaiian shirt and enjoy an evening of tiki-lit skiing and snowshoeing through the woods at Boulder Lake Environmental Learning Center in Duluth. There will be a small groomed loop on the lake for kids and beginner skiers, along with games and races. Enjoy a bonfire near the lodge, as well as drinks, snacks, and soup/chili. Continental Ski & Bike will have free skis for people to check out prior to the event, or you can pick up skis at the Ski Hut in advance. Cost to attend is $10 adults, $5 kids (ages 6-16), and free for ages 5 and under. All proceeds go to funding programs at Boulder Lake ELC and Duluth XC Ski Club.