Shelter from the Trout Lake Storm
Everybody who's ever gone tent camping has a story about "that storm" barreling through camp in the middle of the night. You never forget it, once you've lived through it. I think going through these big storms in a scrawny tent is part of the allure of camping for many of us. I have unwittingly made living through big storms into a family tradition, and I know I'm not the only one.
I remember tent camping once with my parents in Porcupine Mountains State Park in Michigan, when I was 7 years old, and a vicious thunderstorm ripped into us at 5:30 in the morning. We were right on the shore of Lake Superior, and my parents evacuated me from my sleeping bag into the truck so they could take down the absolutely flooded tent in the pouring rain. The storm was loud and furious, and we drove to whatever nearby town had an early-morning café open. I still remember the panic in my parents' voices as they rushed me into the truck for safety.
Thirty-four years later, I was camping with my own two daughters and three of our family friends on big Trout Lake in the western Boundary Waters. We paddled in from Lake Vermillion, then headed halfway up the deep, 8,000 acre lake. There we found a nice campsite on the western side of Trout to call home for three nights.
The first night was blissful. Then history repeated itself in a roaring, tempestuous way. Keeping the family tradition alive and well!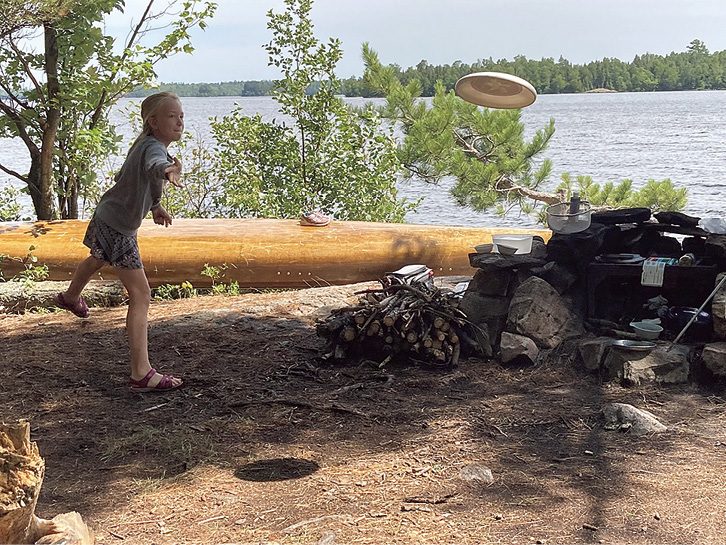 Everyone was sleeping soundly until suddenly, at 2:47 a.m., an absolute beast of a storm whipped up on the lake and tried to flatten our campsite. I spent the next two hours lying on my back propping up the tent poles with my feet and legs while 60 mph winds pounded our poor structure relentlessly. The whole while the girls (8 and 10 years old) were sitting up wide-eyed in their sleeping bags, contemplating how the wind can be THAT loud, how the lightning can strike THAT close, and how the rain can fall THAT hard. It was terrifying.
As I worked my legs to keep the tent from buckling in half, I was imagining the newspaper headlines the next day: "Campers Turned into Human Pancakes after Getting Pulverized by Storm." I've never been good at story titles.
We heard a rattling, banging sound in camp: the wind was powerful enough to lift my canoe off the ground and move it up the rocky shoreline. Those who've portaged my 75-pound Bell Northshore know this is no easy feat.
We all got through that storm, but not without having some fear struck into us. That's part of the tradition. None of us got any more sleep until it started getting light out at 5 a.m. and the storm subsided. Later that morning, bleary-eyed and staggering, all we could talk about over coffee and backcountry cinnamon rolls was the power of the storm we had just been through.
In retrospect, I was happy my friends and family went through it together. It was a formative experience for my daughters, and even for the adults. We tested a big lake and it tested us back. We needed each other to get through that storm. That's our tradition.
Meanwhile, little did we know that less than a mile away from us, on the same Trout Lake, the drama was much more intense, as a party of nine people from St. Paul literally made the pages of the Star Tribune newspaper after a funnel cloud touched down right in their camp and smashed 20 trees to pieces on top of their tents. Miraculously, none of the campers were injured, but they had to abort their trip after one night (of a five-day trip) because their tents and belongings were ruined.
Trout Lake, folks—it's a different world up there.
By Chris Pascone
The summer of 1991 saw a major change in our lives. As of early June that year, we became the delighted parents of a baby daughter, Emma, born in Manitoba, where my wife Joyce was the minister of a three-church pastoral charge, or parish. Before Emma, we had been tenting in three different provinces as we had moved around, but with a young baby, we reasoned, camping now meant that we ought to sleep off the ground. So, we bought a small tent trailer.
By today's tent-trailer standards, the little Palomino was not only small, but much lighter than most and with fewer features. But as we learned to use it, we found it filled our needs to a T (for trailer).
When it came time later that summer to take Emma east to show her to our families, the Palomino became our motel, so that our impact on our families was minimal. For the first of many times, we parked it at Joyce's cousin Ken's house in the country west of Wahnapitae, Ontario. When not visiting relatives, we camped at provincial parks, and found that the propane stove system gave us great hot meals and a simple garden hose attachment meant having running water for dishes and tooth-brushing, etc.
Two years later, having moved east to Nipigon, we found a handy private campground just outside of town. After a few times there, we found a delightful camping spot where it was easy to level the trailer and park beside a bubbling creek that helped us fall asleep at night—until one night, that is. I remember seeing lightning flashes to the west of us as we started getting ready for bedtime. They came closer and soon we could hear the thunder of their presence. Being well off the ground and insulated by the tires, we turned in without thought. The rain started and got stronger, soon drowning out conversation. We didn't mind—we were snug, dry and content. Then, some time after midnight, all hell broke loose.
All we remember is a deafening explosion amid the Biblical-dimensional rainfall. Sometime later, the storm quieted and we went back to sleep. The following morning was a revelation. We saw our host walking around in pajamas and rubber boots, looking dazed and crestfallen. The explosion, we learned, had been a direct hit on his house that not only fried the wiring in it, but started a fire that burned him and his wife out. All they had was the clothes they managed to throw on before they escaped the fire. We were luckier. All the damage we had to show was a fried electrical system from the lightning's power surge.
No matter. We continued to patronize the campground and even found that, if I led an evening hootenanny for the other campers, we got to park the trailer there free for the summer.
Another move, this time to Thunder Bay, and we continued to camp at the nearest provincial park, the Sleeping Giant. Later on, as our trailer was wearing out, it became a parked gazebo in our backyard. Over winter, it sat, closed up until the return of late spring. Years went by until one day, we looked at the Palomino and saw that time and use had made it impossible to camp with, let alone the addition of the extra insurance necessary for highway travel. We gave it to a neighbour who knew someone who took tent trailers apart and made cargo trailers out of them.
All in all, the Palomino was a part of our lives for 25 years, in good weather and foul. We no longer camp, but our hotel on wheels made for many happy memories.
By Peter Fergus Moore
Campfire Pizza
"Let's make campfire pizza, kids."
"What?"
"Campfire pizza."
"You can't make a pizza on a campfire, Daddy."
"Of course, you can!"
The best thing about being a dad is that your kids regard you with skepticism whenever you have a great idea. The second-best thing about being a dad is that your kids are absolutely delighted when you prove them wrong. Case in point: campfire pizza.
The first thing to do when you go out camping is to throw every digital device you brought with you into the lake. However, the problem with throwing the digital devices away is that your kids sit around with blank looks clutching desperately in the air for the cellphone that's no longer there. They've been zombified. The only cure is to keep them busy, or to shock them with a concept that they think is impossible. Making a pizza on a campfire does the trick.
"We've got to make a pizza."
"It's not possible!"
"Daddy's gone crazy!"
Camping should be a collective activity. It's an opportunity to do things together. You put up the tent together. You get a bad night's sleep together. You walk down to the lake, realize it's too cold to retrieve your digital devices, and then walk back to the campsite together. At the end of the trip, you're all ready to go home… together. A pizza is a way to make food together.
Like everything camping, campfire pizza takes way more effort than what you get out of it. Making a campfire pizza teaches you to really appreciate the convenience of a delivery pizza.
The first thing you have to do is get the coals to burn way down. I always bring along a cookie pan to make the pizza, so I use this to fan the flames down to white hot coals. You need a good, controlled heat. This is also a great opportunity to make a delightful show of sparks.
"Daddy, stop it! Those sparks are going to ignite the tent!"
The next step is to break out the supplies. Even when my kids come with me to purchase camping groceries, they're astounded when I pull out the dough, sauce, pepperoni and cheese.
"Where did all that come from?"
"I told you we were going to make campfire pizza."
"You were serious about that?"
Once you have the dough pressed out on the cookie tray, everyone gathers around and adds the toppings they prefer. It's camping. Let them go crazy.
Most campsites have a grill, so I set that down as close to the coals as possible and then place the cookie sheet with the pizza on top. You don't have to cover the pizza, just let it cook. In the absence of digital devices, your kids will delight in being able to watch the cheese melt. When the pizza is done, remove it from the fire and cut it into slices.
There's something about cooking a campfire pizza that kind of feels like you're breaking the rules.
"We're supposed to be eating hot dogs, Daddy."
"We're supposed to be eating hamburgers."
"I know, but we're rebels. We don't do what we're told. Our family has pizza when we go camping because that's the way your Daddy rolls."
There's something about unexpected behavior that makes your kids momentarily forget the fact that you chucked their cell phones into the lake.
Next time you're out camping, give campfire pizza a try. You can't screw it up and even if you do, there's always hamburgers and hot dogs to fall back on.
By Walter Rhein