Lutsen—Not long ago, the basic agenda when it came to skiing or snowboarding was to simply make it down the mountain or hillside safely. Eventually, as with most human concepts, things evolved.
Areas now offer terrain parks. Modeled after skateboarding parks—which commonly offer a series of ramps and other means of providing aerial lift—terrain parks are built for skiers and snowboarders.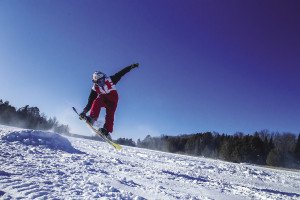 From Spirit Mountain near Duluth to Loch Lomond near Thunder Bay, there are numerous parks designed specifically for stunt or trick riding on skis or snowboards. Not only do these terrain parks offer ideal ramps, rails and steep terrain to perform tricks, they also keep those who aim to perform such tasks away from the casual skier or snowboarder.
Lutsen Mountains marketing representative, Melissa Dressely, said terrain parks were born from snowboarders riding tricks and have now become a standard feature at resorts across the country.
"Ski design followed the evolution with twin tips and trick skis," she said. "Today there is an equal mix of skiers and snowboarders in the terrain park."
Lutsen Mountains currently offers a series of five progressive terrain parks. There are basic features at the Ullr Mountain Park, with features built close to the ground, according to Dressely. From there, the parks become more advanced, including a "half-mile of slope-style fun with a jump line and more than a dozen jibs changed up during the season," Dressely said.
Furthermore, Lutsen offers the Boarder Cross course on Mystery Mountain that "lets you challenge your friends head-to-head through high-bank-corners, rollers and jumps," Dressely said.
Once considered a daredevil sport, the popularity of stunt-style snowboarding and trick riding was spread to the masses by events such as ESPN's Winter X Games. The festive, but highly competitive sporting celebration of all things winter, made it obvious to a new age of snowboarders and skiers that it's okay to do more than just coast down a mountain at your own leisure. In short, terrain parks made it cool and accessible for anyone to take a jab at trick riding.
Spirit Mountain claims the largest terrain park in the Midwest, and there will likely be more terrain parks springing up at ski areas all over Minnesota and Ontario in the near future. In Vermont, Colorado and California, terrain parks have opened independent of large resorts, or without offering much in the way of traditional resorts with a vast network of trails and runs. In Minnesota, where the landscape doesn't change much with regard to elevation (compared to say, Colorado), the possibility of a terrain park is realistic wherever there is space to build jumps, ramps or place rails.
And while the Northern Wilds might not be hosting the X Games anytime soon, at least there are plenty of places to hone one's skills in preparation and to get outside and enjoy the winter.